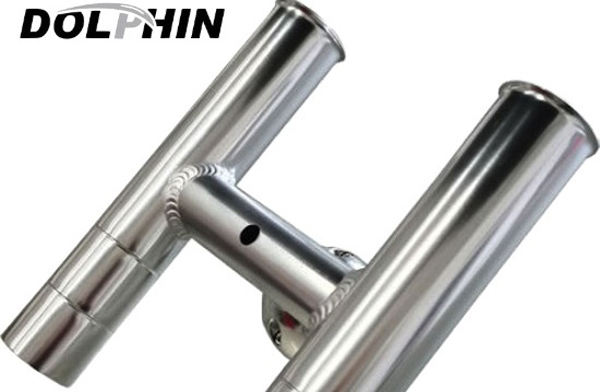 Twin rod holders.
The original dolphin twin rod holders were created to hold 2 rods and adjustable every 45 degrees. The twin rod holders will clamp to your T-Top, hardtop, tower, radar arch, rail or any structure made from 2 inch, 1.5inch pipe. You will have a place for you fishing rods in a safe place off your floor. The twin rod holders can be angled by rotating the clamp around your frame and also side to side with the adjustable clamp. There is a laser engraved logo along the tube so you know you are purchasing the genuine article from Dolphin. The smooth clear anodised finish to the twin tubes and clamps makes these rod holders so easy to keep clean. A quick wash, rinse and wipe down after a great days fishing is all it needs. No hard polishing to get these puppies looking great all the time.
Materials.
The clamp fitting is cnc machined from solid 6061 aircraft aluminium. The rod holder are cold-drawn tubing which is smooth polished and anodised for superior protection. All our hardware is 316 stainless steel bolts for secure holds, strength and durability in the harsh marine environment. We source and only use high Quality raw materials for pure performance to look after your gear.
Size.
The clamp size is 2 inch, we supply a rubber insert for 1.5inch size tubing. The rubber insert will protect your Dolphin t top frame. The clamp will allow the rod holders to be adjusted at 18 degree intervals. Now you can angle the rods sideways to an angle that suits your needs.